The Veterans Crisis Line is available to Veterans and their supporters 24/7. Through a powerful Veteran-to-Veteran message, this video encourages Veterans to call when they go through a difficult time and need somebody to listen. "You Are Not Alone" features actual Veterans talking about why they would call or refer their Veteran friends to the Veterans Crisis Line.
If you are in crisis, there is no wrong reason to reach out to the Veterans Crisis Line. Whatever you are going through, the Veterans Crisis Line is here for you.
The Veterans Crisis line is here for you in times of need — answering your calls, chats, and texts 24 hours a day, 7 days a week, 365 days a year. Go behind the scenes to meet the people behind the crisis line, and see what motivates them to make a difference.
For some, service means deploying overseas to make the world a safer place. But for the men and women who make up the National Guard and Reserve, service takes place closer to home. This PSA highlights the unique role the Guard and Reserve play in safeguarding the country and reinforces that VA has resources to support them.
In a given day, it's estimated that the average person makes more than 35,000 decisions. Each of these choices, large or small, has the chance to have a tremendous impact on our lives. This PSA highlights the importance of these decisions, reinforcing the idea that Veterans have the strength to reach out for support.
You don't need to have special training to support the Veterans in your life, and we can all do something to help a Veteran who is going through a difficult time. "Facing the Challenge" highlights the importance of having an open conversation with the people in your life when they're going through a difficult time.
Women of all ages, backgrounds, and branches have served honorably in our military. As Veterans, they continue to serve their communities across the country. While supporting others is something they've been trained to do, some may not know where to turn when times get tough. This PSA highlights the support and resources that women Veterans deserve.
Gun Safety (2018)
The Veterans Crisis Line gun safety video shows the importance of taking precautions at home when a firearm is present. Simple actions can help Veterans, Service members, and their families stay safe.
Whether you have a minute or an hour, your genuine act of kindness can help someone going through a difficult time feel included and less alone. This video emphasizes that we can all play a role in preventing suicide — and that showing someone you care can be an important first step. Your actions could help save a life.
This PSA highlights the transitions — such as sending a child off to college, retiring, or losing a loved one — that Veterans and Service members may navigate in their lives. Sometimes these challenges contribute to feelings of hopelessness or even thoughts of suicide. That's when the support of family and friends can make a big difference.
When you ask how someone is doing and get the response "I'm good," do you ever give it a second thought? The U.S. Department of Veterans Affairs and the U.S. Department of Defense have come together to create a video that addresses this question. "I'm Good" features actual Veterans and Service members talking about the conflicting feelings that sometimes underlie offhand responses like "I'm good."
To someone going through a difficult time, a text, a call, or a visit can mean so much. And sometimes, even the smallest act has the power to change a life. That's The Power of 1: One person, one connection, or one simple act of compassion can open the door to vital support for a Veteran in crisis.
For some Veterans, life after service is difficult. "Lost: The Power of One Connection" shows how one person can make a big difference to a Veteran in crisis.
"The Power of 1" shows how taking the time to reach out can be the first step to getting those who served the support they need. A single action — one call, one chat, one text, one conversation — can have a significant impact.
In following through on their commitment to protect our country, Veterans defended what matters most. "Commitments" shows how their pledge to serve, and the experiences Veterans have had, continue to affect them.
Families and friends play a big role in helping Veterans through challenges. "Talking About It Matters" shows how asking the hard questions can be the first step toward Veterans' getting support.
"These Hands" gives glimpses of Veterans as they served our country, and links to how important family members and friends can be in recognizing the challenges of transitioning to civilian life.
We're all in this together: "Stand by Them" calls on family members, friends, and communities to support the Veterans and Service members who have stood up for them in defense of our Nation.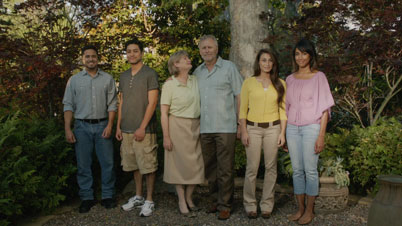 It's OK to not understand what Veterans go through during service or when they return: As "Side by Side" shows, you can still make a difference. No matter what's going on, support is available.
"Common Journey" follows the Veteran's journey from recruitment and boot camp — and, in a twist common to many recent Veterans, to the sometimes difficult transition back to civilian life.
"Perspectives" portrays two young Veterans getting care through VA, one of whom tells his friend he's glad he made the call to the Veterans Crisis Line.
"Waking Up" offers a glimpse of some of the challenges faced by one resilient Vietnam Veteran who chose to make the call to the Veterans Crisis Line.
"After the Call" offers a glimpse into the lifesaving work of five Suicide Prevention Coordinators (SPCs) — who share their real stories about the work they do every day to support Veterans and their loved ones. Veterans are referred to SPCs through either the Veterans Crisis Line or VA medical centers for help navigating VA's network of care. Veterans dealing with mental health conditions and difficult life events and experiences can call on any of the 300 SPCs nationwide to get connected with the most appropriate treatment and support plan.
"Behind the Scenes" provides a look into one of the three Veterans Crisis Line call centers, where qualified, caring responders answer the calls of Veterans, Service members, and their families and friends in times of crisis. In the video, VA responders, some of them Veterans themselves, share their stories and experiences in providing vital support and referrals for Veterans and their loved ones.
Fierce Loyalty: Safety Plan (2014) - Clinicians
Clinician Version
This version of "Fierce Loyalty" can be used by clinicians as a tool to help train health care providers about the importance of encouraging Veteran patients and their loved ones to create a safety plan they can implement if the Veteran is experiencing a crisis or may be at risk for suicide. The video includes testimonials from a VA Suicide Prevention Coordinator and a VA medical center clinician to explain the big impact a safety plan can have in helping a Veteran to get the help he or she needs.
Fierce Loyalty: Safety Plan (2014)
Veteran/Family Version
This version of "Fierce Loyalty" can help Veterans and their loved ones understand the importance of creating a safety plan tailored to individual or family needs that can support someone in the home who may be in crisis. The video tells the story of how working with VA counselors to create and implement a safety plan helped one Veteran and his family, and encourages others to talk with their health care providers about safety planning.
Beyond the Call (2013)
"Beyond the Call" features testimonials from Veterans' family members and friends who helped them through difficult times, and encourages others to help connect Veterans in crisis with support.
Veteran Suicide: Ask the Question (2012)
In "Ask the Question," mental health care providers dispel myths, and talk about the importance of asking difficult questions of Veteran patients who show the warning signs of suicide.